There are thousands of words in any language. But not all words have the same job. For example, some words express "action". Other words express a "thing". Other words "join" one word to another word. These are the "building blocks" of the language. Think of them like the parts of a house. When we want to build a house, we use concrete to make the foundations or base. We use bricks to make the walls. We use window frames to make the windows, and door frames to make the doorways. And we use cement to join them all together. Each part of the house has its own job. And when we want to build a sentence, we use the different types of word. Each type of word has its own job.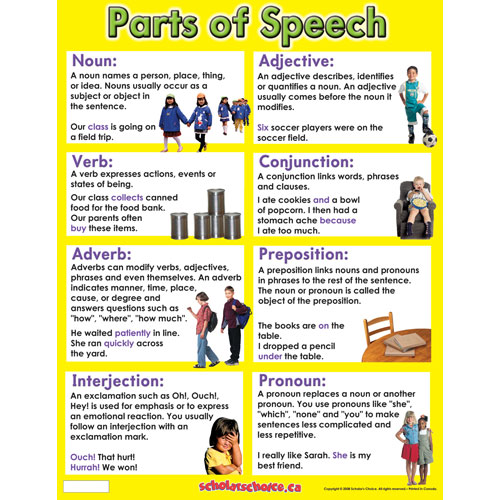 Identification of Parts of Speech:
First of all, a word can be more than one part of speech and you have to look at how the word works in a particular sentence to know what part of speech it is. The chart below shows examples of words that have more than one part of speech.
The verb is the heart of a sentence, so it is a good idea to identify the verb first when looking at a sentence. Verbs can be recognized through:
past tense ending (looked)
3rd person singular ending (says)
auxiliary verb (will see)
modal verb (can hear)
There are also verb endings or suffixes that can help you recognize verbs. Some common verb endings are listed in the chart below.

http://eslus.com/LESSONS/GRAMMAR/POS/pos10.htm
Here's a little rhyme — by
David B. Tower & Benjamin F. Tweed
—that teachers used in days gone by to help students learn the parts of speech. It has been set to music, but we'll leave that up to you to discover or create for yourself:
"Three little words you often see
Are ARTICLES: a, an, and the.

A NOUN's the name of anything,
As: school or garden, toy, or swing.

ADJECTIVES tell the kind of noun,
As: great, small, pretty, white, or brown.

VERBS tell of something being done:
To read, write, count, sing, jump, or run.

How things are done the ADVERBS tell,
As: slowly, quickly, badly, well.

CONJUNCTIONS join the words together,
As: men and women, wind or weather.

The PREPOSITION stands before
A noun as: in or through a door.

The INTERJECTION shows surprise
As: Oh, how pretty! Ah! how wise!

The whole are called the PARTS of SPEECH,
Which reading, writing, speaking teach.
"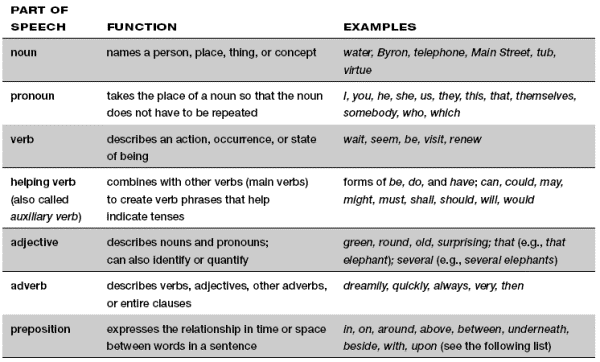 http://grammar.ccc.commnet.edu/grammar/definitions.htm

---
Permissions in this forum:
You
cannot
reply to topics in this forum