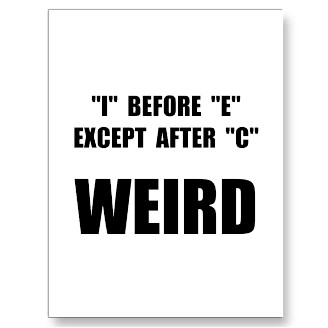 I suppose you have heard the English spelling rule,
"I before E, except after C"
. It covers most of the bases:
"thief," "grief," "believe," "relieve,"
etc., or (after "c")
"receive," "ceiling," "conceit,"
etc. This rule, essentially applies to
"ie"
or
"ei"
which have an
"ee"
(long e) sound. Others (ay or other sounds) are usually spelled
"ei."
Here are some words with these other sounds:

beige
feint
feisty
foreign
forfeit
heifer
height
heir
heist
neighbor
reign
rein
seismometer
their
veil
vein
weigh (weight)
Then there are quite a few exceptions (
"ee"
sound, but spelled
"ei"
):

codeine
either
Keith
leisure
neither
seize
weird
Or not an
"ee"
sound, but spelled
"ie"
:
friend
hierarchy, hieroglyphics
Of course
"either" and [i]"neither"
are pronounced differently (and are not exceptions to the rule) outside the USA.
A few words have a syllable break between the two vowels (
"deity," "science"
), and their spellings are fairly obvious. Most foreign words retain their foreign spelling:
"concierge," "Heimlich," "leitmotif."
And words with prefixes and suffixes (
"being," "deice"
(usually spelled
"de-ice"
)
"reinvent"
) should be obvious.
Addendum:
According to
The Complete Word Book
by Mary A. DeVries, this is the entire
"i before e"
spelling rule:
"Use i before e except after c or when sounded like a as in 'neighbor' or 'weigh'; and except 'seize' and 'seizure' and also 'leisure', 'weird', 'height', and 'either', 'forfeit', and 'neither'."
As you can see, this covers most of the cases.
http://www.jimloy.com/language/ibeforee.htm
Advanced Fluency





Posts

: 1537


Join date

: 2011-12-22


Age

: 43


Location

: Philadelphia




---
Permissions in this forum:
You
cannot
reply to topics in this forum