Contrary to popular opinion, the answer is
YES
!
All children learn to read the same way. They follow one clear path as they progress through literacy milestones in a consistent sequence of five literacy phases. The journey can begin as early as from birth to age 3 rather than waiting until children enter kindergarten at age 5. This phase development—whether early and informal or later through direct instruction—is not unlike the remarkably regular way that very young children progress through motor milestones or learn to speak in a consistent sequence. Seeing and understanding the five phases will open your eyes to any child's literacy development.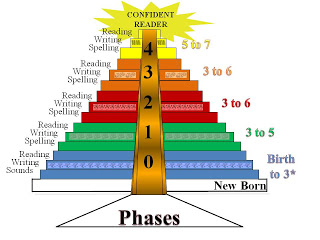 - So, what happens in Phase 0, from birth to age 3 if parents or caregivers start early?
Literacy development begins at birth with the laying down of neural circuitry for language which is foundational for later reading circuitry. In addition to language development, Phase 0 includes interest and joy in being read to, and later interest in marking, drawing, and scribbling—the precursors of writing and reading.
Did you know that almost all early readers write first and read later? Early readers not only have been read to, they are almost always "pencil and paper" kids. Very successful Montessori schools teach early literacy based on this model. The Phase 0 child loves books and literacy related activities because you enthusiastically engage her in literacy activity and entice her and this activity is meaningful, joyful, and fun!
http://raisingconfidentreaders.blogspot.com/2010/04/do-all-children-learn-to-read-same-way.html
Advanced Fluency





Posts

: 1537


Join date

: 2011-12-22


Age

: 44


Location

: Philadelphia




---
Permissions in this forum:
You
cannot
reply to topics in this forum