PROVERB - "Pride goes before a fall":
"Pride goes / goeth before a fall" (Ame.) - "Pride comes before a fall" (Aus., Brit.)
If you are too proud and overconfident, you will make mistakes leading to your defeat.
Ex: " -Sue: I'm the best student in my history class. I'm sure I can pass the exam without studying very hard. -Sam: Be careful. Pride goes before a fall, you know."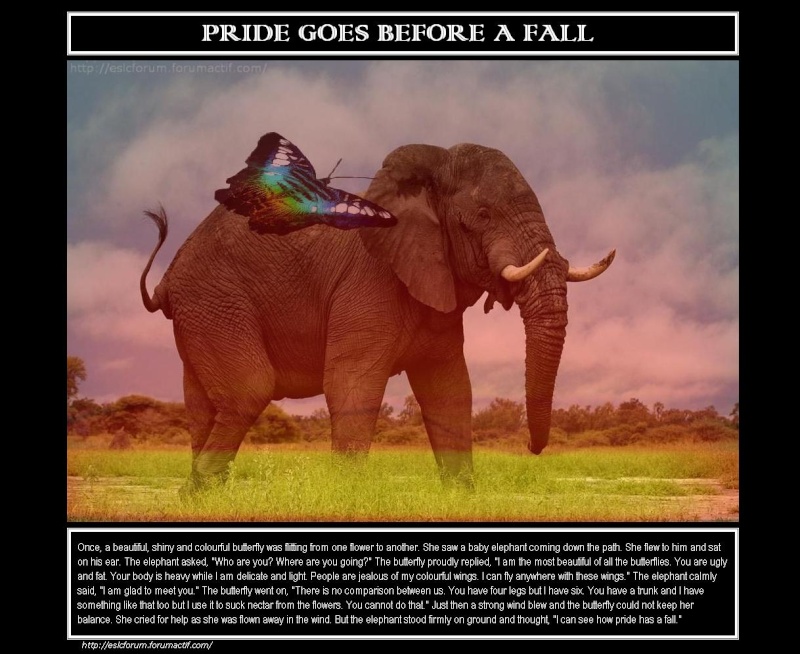 STORY:
Once, a beautiful, shiny and colourful butterfly was flitting from one flower to another. She saw a baby elephant coming down the path. She flew to him and sat on his ear. The elephant asked, "Who are you? Where are you going?"

The butterfly proudly replied, "I am the most beautiful of all the butterflies. You are ugly and fat. Your body is heavy while I am delicate and light. People are jealous of my colourful wings. I can fly anywhere with these wings."

The elephant calmly said, "I am glad to meet you."

The butterfly went on, "There is no comparison between us. You have four legs but I have six. You have a trunk and I have something like that too but I use it to suck nectar from the flowers. You cannot do that." Just then a strong wind blew and the butterfly could not keep her balance. She cried for help as she was flown away in the wind. But the elephant stood firmly on ground and thought, "I can see how pride has a fall."
Advanced Fluency





Posts

: 1537


Join date

: 2011-12-22


Age

: 43


Location

: Philadelphia




---
Permissions in this forum:
You
cannot
reply to topics in this forum